Meet The Burton Dental Team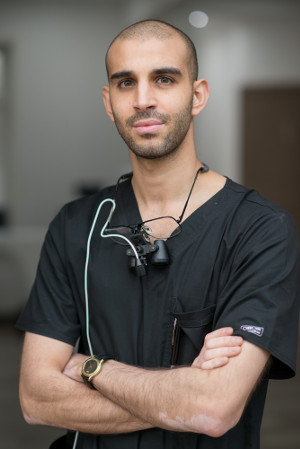 Dr Rami Youssif
BDS (Glasgow), RCS, Mcs Implantology (Cardiff)
GDC: 243642
Hi my name is Rami. I am the owner and clinical director here at Burton Dental Lodge.
I graduated from Glasgow University, school of dentistry where I gained invaluable knowledge and experience in general and rural dentistry. I was placed in West of Scotland and Highlands where Primary care dentistry was only available and any referral would mean a long commute to the city for the patient. This was the bases and nature of my surgical route as any complications were managed contemporaneously. I later moved on to Edinburgh where I completed my vocational training and had the experience of working in several private settings where I advanced my cosmetic and restorative knowledge. At this point I began to develop a love for the surgical pathway in dentistry and opted for the opportunity to further my studies and experience in the Cardiff school of dentistry where I was exposed to a vast amount of maxillofacial technicalities alongside the highest trained professionals. I was able to further my surgical skills and understanding to be able to handle any complications and advanced procedure around the world of Implantology from sinus lifts, block bone grafts, implant failure and management, full mouth and complex rehabilitation cases to the simple single unit cases. In addition, I was exposed to treat patients under local, conscious and general anaesthetic sedation. Having achieved a postgraduate master of science in Implantology at Cardiff university I decided to move back to my home town of Boston, Lincolnshire to set up a dental practice. Burton Dental Lodge took around 18 months from the moment planning was approved. In the meantime, I gained my International Team of Implantology membership and my Royal College of Surgeon membership where I also advanced my keen interest in facial aesthetics. Burton Dental Lodge is designed to offer a relaxing environment whilst bringing together state of the art equipment along with other medical disciplines,in order to provide the patients with an up to date service.
Looking forward to meeting you!
Dr Himanshu Kishnani
BDS, Mcs Implantology (Cardiff)
GDC: 280811
Hi my name is Himanshu. I am pleased to say that I am a dentist at Burton Dental Lodge.
I enjoy all aspects of dentistry and since graduating I have enhanced my knowledge in endodontics (root canal treatment) and implant dentistry by attending advanced courses and completing a master postgraduate degree at the prestigious Cardiff university. I have also worked in a number of private dental practices where I have enhanced my restorative skills, biomaterial science and dental implant procedures for the replacement of missing teeth.
Having obtained clinical knowledge and applications from all aspects of dentistry, I have been able to exercise them to give my patients the best treatment options to restore their dentition.
Besides my professional interests, I enjoy travelling whilst taking professional photographs to capture the moments.
Looking forward to meeting you.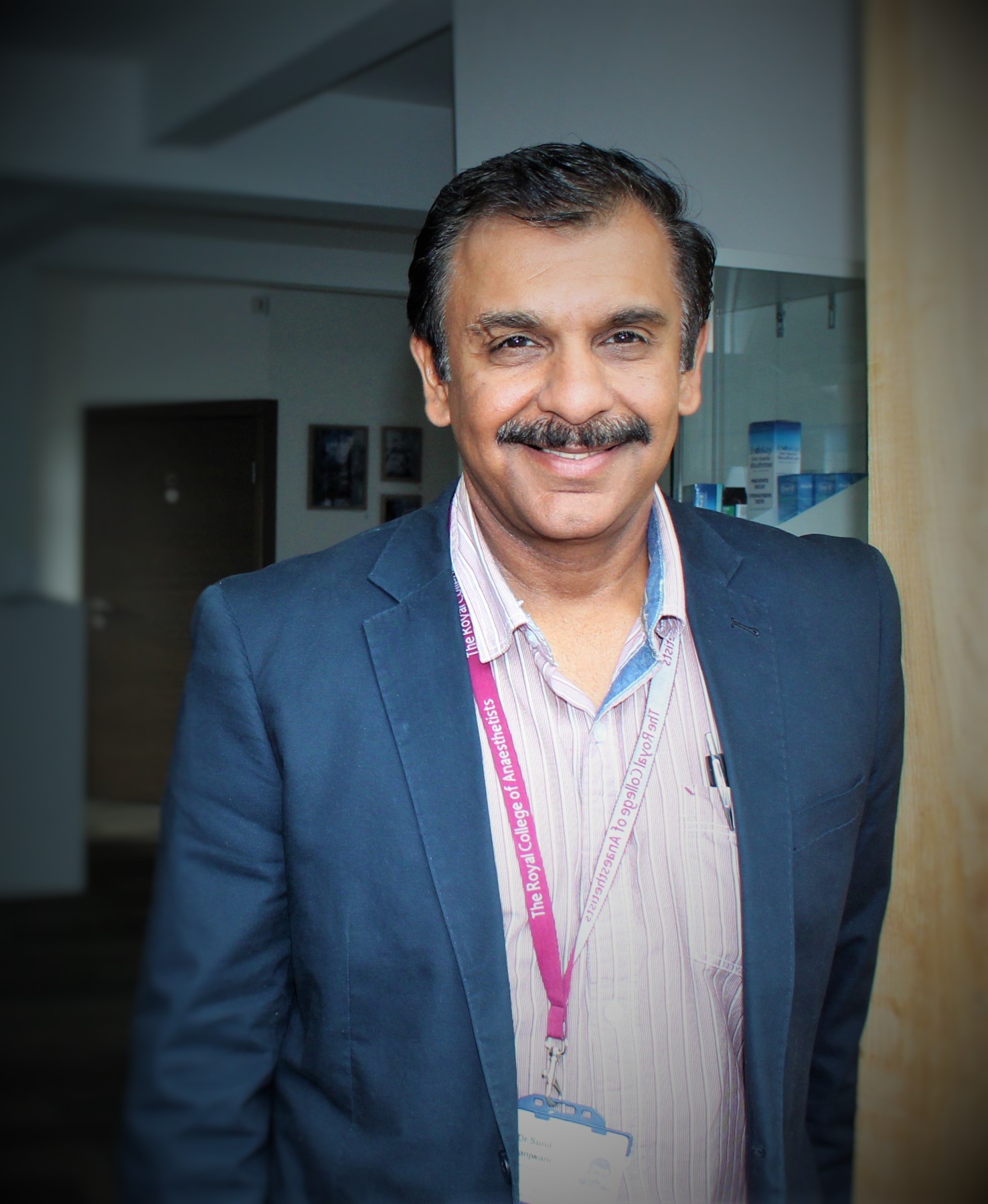 Dr. Sunil Panjwani
(MBBS, MD, FRCA, FFICM)
GMC: 4358673
Dr Sunil Panjwani is currently a Consultant in Anaesthesia and Intensive Care at Pilgrim hospital, he settled in Boston, Lincolnshire in the year of 2000. Not only is Sunil an accredited member of the Royal College of Anaesthesia, he is also the United Lincolnshire trust lead for resuscitation and the lead for enhanced recovery for surgery at Pilgrim Hospital. Sunil is a warm, friendly team member here at Burton Dental Lodge, who thrives on providing the best care possible to his patients and takes special interest in conscious dental sedation. For him, it is a pleasure to work with all kinds of anxious patients with dental phobias.
In his spare time, he enjoys going to the gym and playing cricket.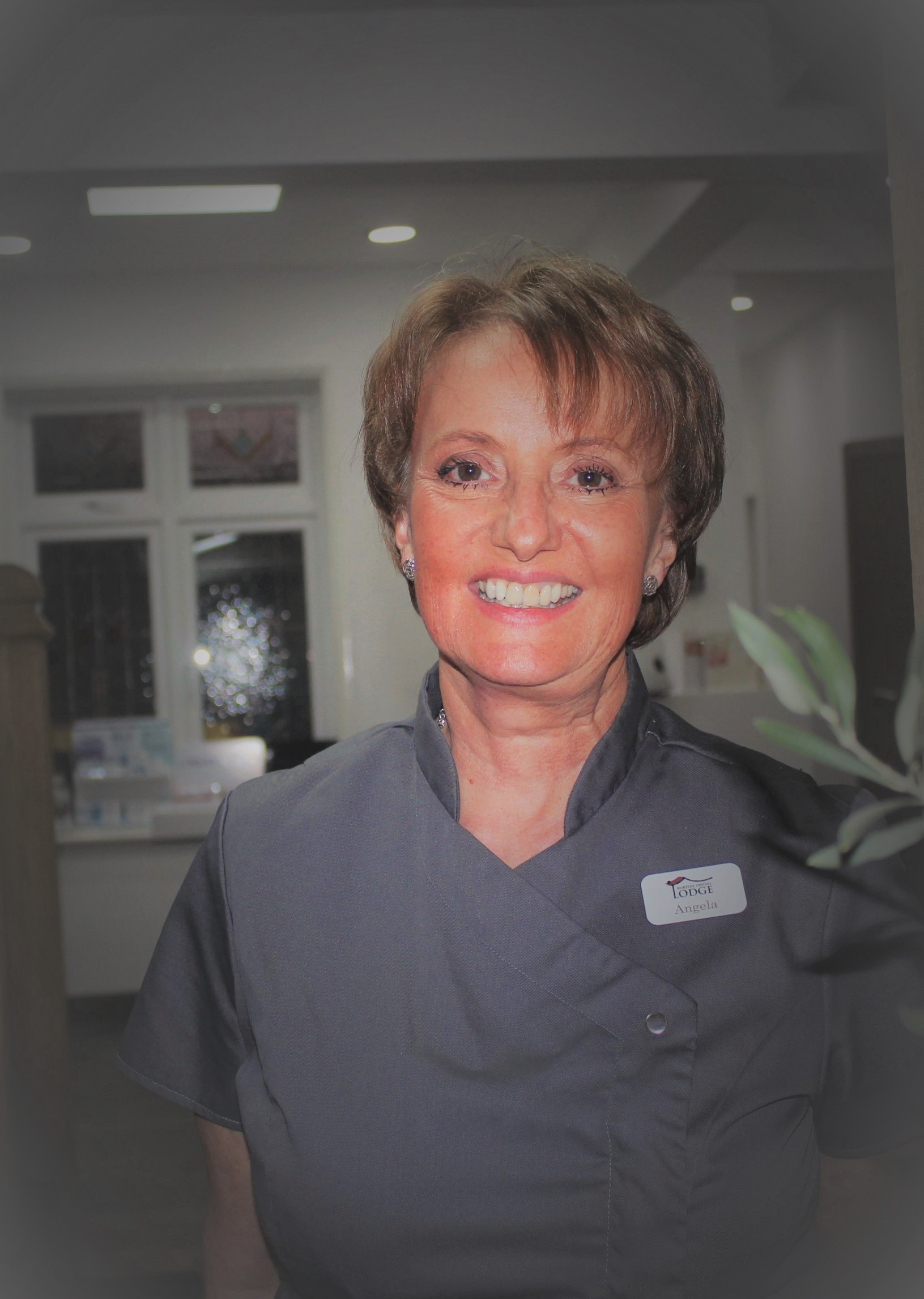 Angela Lane
GDC: 233034
Angela started her career as a Dental Assistant and then went on to qualify as a Dental Therapist in 1978 at New Cross Hospital in London. She then qualified as a Dental Hygienist in 1983 at Guys Dental School in London.
Angela joined Burton Dental Lodge in 2018 where she carries out routine dental hygiene appointments including scale and polishing. Angela also performs more in-depth procedures for gum conditions.
Angela also holds a diploma in Dental Health Education from the Royal Society of Health.
In her spare time, Angela enjoys dancing.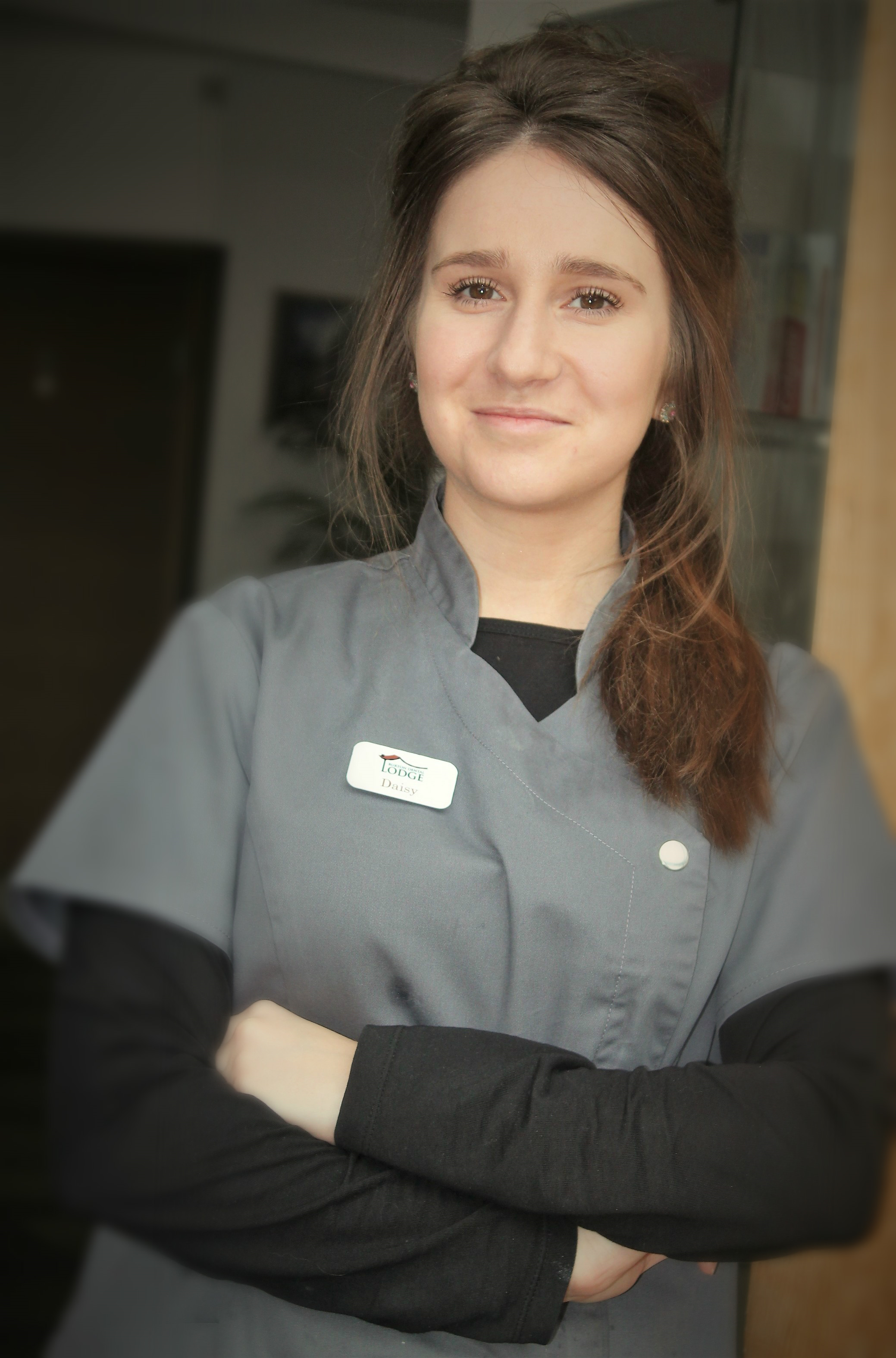 Daisy Phelps
Dental Radiologist Nurse
GDC: 268068

Hello, my name is Daisy.
I trained as a dental nurse at the University of Northampton for two years where I graduated with a foundation degree. The course involved attending different placements throughout the two years of training which consolidated my theoretical knowledge. I have experience in NHS general practice, private general practice, hospital maxillofacial and community settings. I enjoy working here at Burton Dental Lodge as you have an opportunity to liaise with patients – get to know them and provide tailored complex treatments. I have a special interest in implant therapy and sedation.
During my time here at Burton Dental Lodge. I have been able to carry out a dental radiography course where I have achieved a qualification by the British Dental Association in Dental Radiography. This achievement has widened my skill set in dental nursing and has enabled me to not only take Intra-oral x-rays but advance in radiology techniques such as Orthopantomogram and Computer Tomography images. I am also responsible for maintaining, auditing and calibrating x ray units at the practice.
In my spare time I enjoy spending time with my family and friends.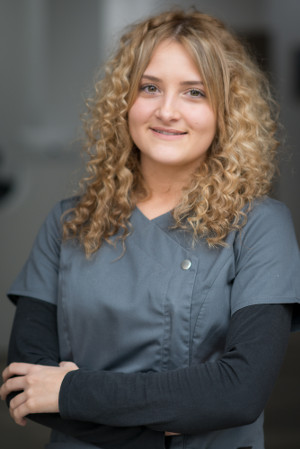 Maria Gerotto
Nurse/Practice Co-ordinator
GDC: 270063

Hello, my name is Maria.
Before I started dental nursing, I studied health and social care at Lincoln college – I love all aspects of health, the human body and how it all works, however, dentistry is by far my favourite!
I really enjoy the warm, caring presence at Burton Dental Lodge and putting our patients at ease. I also really enjoy working alongside Dr. Youssif and the rest of my colleagues – I am delighted to be part of the team!
During my time at Burton Dental Lodge, i have had the opportunity to further my studies and complete a level 3 Business Administration course – this has enabled me to progress further within the practice.
After 4 years of being part of the Burton Dental Lodge team, I have been fortunate to see the practice expand within its team members and become a well-established business. With this experience, I have gained the skills to be able to mentor, co-ordinate dental nurses and encourage them to work to the best of their abilities, before and after completion of their dental nurse training.
Outside dentistry I like to spend time with my family and friends.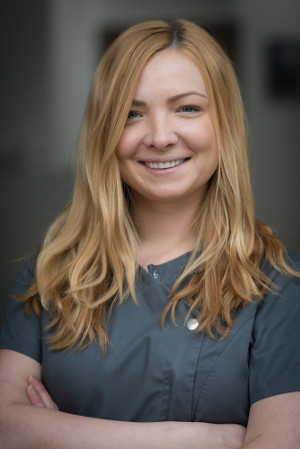 Monika Dzierwa
Nurse

Hello, my name is Monika.
I am really delighted to be part of the Burton Dental Lodge team. We are a dedicated team and work hard together to ensure our patients have the best treatments available. I have been working as a dental nurse for over 4 years in Edinburgh in several private settings. I have completed an advance implant course and I have vast knowledge of the different types of treatments and system involved in implant therapy. In addition, I am participating in completing a radiography training course which I hope to complete this year.
In my spare time I like to socialise with my family and friends. I also like to read books and travel.
Imogen Short
Nurse
GDC: 283678

Hello, my name is Imogen.
I studied art and design before I started my apprenticeship at Burton Dental lodge however, I have always had a passion for dentistry. I love working closely to people, especially my colleagues and i enjoy all aspects of dentistry, particularly dental implants. Working at Burton Dental Lodge has developed my confidence, knowledge and skills to help me progress in my dental nursing apprenticeship.
In April 2019, I qualified in a Level 3 diploma for dental nursing. I thoroughly enjoyed every aspect during my training and having that opportunity really helped me to develop further confidence, especially when talking to patients either about treatments or to make them feel at ease.
In my spare time, I enjoy spending time with my friends and family.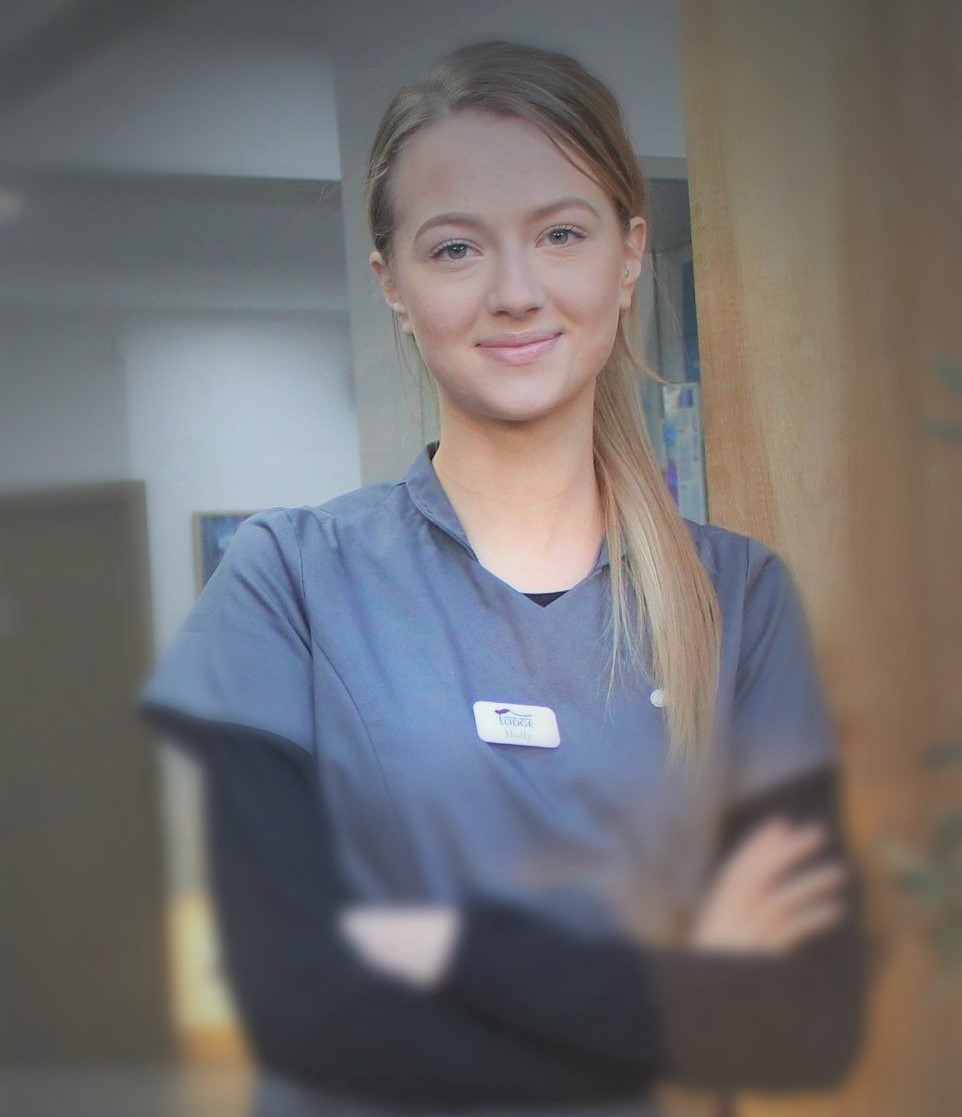 Holly Wright
Nurse

Hello, my name is Holly.
Before I started my apprenticeship at Burton Dental Lodge, I was studying psychology and health and social care at Sixth Form. I have always had an interest in how the mind and body works and being given the opportunity to work alongside the Burton Dental Lodge team has developed my knowledge in dentistry. The Dental Nurse apprenticeship is an amazing opportunity and I am thoroughly enjoying every part of it.
In my spare time, I enjoy spending time with my friends and family.